Introduction to Rock Climbing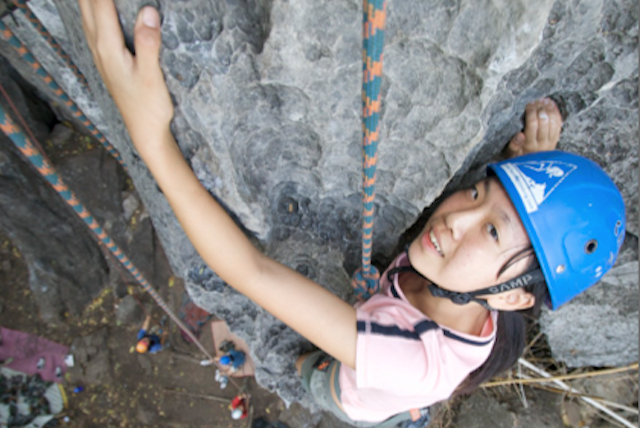 "I'd like to take a course, but I've never tried climbing before!" At CMRCA, we hear this a lot. The good news is, we have just the course for you! Our introduction to Rock Climbing course is designed to be a fun day out on the rock where you will be introduced to the basics of rock climbing and rappelling (abseiling).
The morning portion of the course will be spent introducing you to the basics of top-rope climbing. Top-rope climbing (or top-roping) is the easiest, simplest, and safest way to climb. During this course, we won't just take you climbing: we will introduce you to the mechanics of the top-rope system, teach you how to belay, and help you develop the fundamentals you need to be a responsible and knowledgeable climber. You'll get lots of time climbing, and our instructors will coach you on technique and help you have a successful and fun day on the rock!
In the afternoon, you will get a chance to learn the basics of rappelling (abseiling). Applying your new skills of top-roping and belaying, you will help build a rappel and then step out over the edge and lower yourself to the ground. Finish the day with an exhilarating rappel into the mouth of a massive cave. Rappelling is a distinct activity from climbing, and this course will ensure that you are introduced to rappelling in a safe way so that you can learn best practices and good habits that will keep you safe on future rappels. Plus, rappelling is a lot of fun, and there is no better place to rappel than in beautiful northern Thailand!
Includes:
Instruction, transportation from CMRCA to climbing site, equipment, lunch, water, insurance, coupon for 20% off anything at the CMRCA adventure store, one day bouldering gym pass, and discount on additional courses. Multi-day courses do not include lodging or other meals (unless explicitly stated). Please arrive at our shop between 8:00-8:15 in the morning. All courses will return to the shop around 17:00-17:30. Pick-up/drop-off requests can be made during the booking process. Additional charges will apply. We strongly encourage all clients to find their own way to our shop. Give us a call -- we can help!
What to Bring:
Closed-toed sport shoes and athletic clothing. Consider bringing a reusable water bottle, mosquito spray, and sun screen.
Duration of Courses
All courses are run on a daily basis. Itineraries are not set in stone and can be adjusted according to a clients needs. A sample itinerary is as follows:
08.00 - 08.15: Arrive CMRCA and receive equipment
08.30 - 09.30: Transport to Crazy Horse Buttress
09.45 - 12.30: Morning Climbing Session
12.30 - 13.30: Lunch
13.30 - 16.00: Afternoon Rappelling Session
16.00 - 17.00: Return to CMRCA
Climb ON!